Rock Climbing Near Bishop
OWENS RIVER GORGE
The Owens River Gorge is a steep canyon cut by the Owens River. It is California's most concentrated sport climbing area, located just north of Bishop, and provides over 500 routes. Year-round fishing opportunities too!
Land Manager: City of Los Angeles—Department of Water & Power.
Directions to Trailhead: Take Highway 395 north from Bishop Chamber of Commerce about 12.1 miles to Paradise exit and turn right on the Gorge Road. At the T intersection, turn left (north) on the paved road for about 3.25 miles. Turn right and drive for about 400 feet. Park on the road shoulder before the road barricade. From here, hike down the road 1.5 miles just past the power plant to the climbing area. Much of this area is bolted. Keep dogs on leash as you walk into the canyon to avoid accidents with occasional maintenance vehicles. Great for bikes & stroller access.
To reach the central gully (most direct route), continue up the paved road from the 3.25 mile mark for about 1.5 miles. Turn right and travel 0.3 miles to a parking area near a large power transmission pole. The trail is immediately north of the parking area. The trail is very steep, rugged, and loose but provides quick access from the top of the gorge.
Hiking Distance/Elevation/GPS Coordinates: About 1.5 mile approach to climbing area from parking area. 5,397 feet (1,605 meters)
Road Access—Lat.: N 37.4912; Long.: W -118.5635.
Central Gully—Lat: N 37.5100; Long.: W -118.5715.
Misc: Camping is prohibited on City of Los Angeles' land. Inexpensive camping is available at PV Pit, Horton Creek, and others. Stop by the Bishop Chamber of Commerce and Visitors Bureau at 690 N Main for locations.
Don't forget to pickup the guidebooks! Owens River Gorge Climbs by M. Lewis and Bishop Area Rock Climbs by P. Croft & M. Lewis. Also, this blog article on the Owens River Gorge is worth checking out.
ALABAMA HILLS
The Alabama Hills is a surreal landscape of mountainous craggy boulders, towers, and pinnacles framed by Mt. Whitney and the High Sierra. The highly fractured and clustered hills of orange rock attracted early 20th century movie producers and continues as a major film production location today. Easy and moderate climbing routes on quartz monzonite are next to the parking areas. Rock quality ranges from quality patina to chossy. Tread lightly. About 300+ routes have been established, the majority being bolted.
Land Manager: Bureau of Land Management—Bishop Field Office. Los Angeles Department of Water & Power.
Directions to Trailhead: From the Bishop Chamber of Commerce, proceed south on Main Street (Highway 395) for 60 miles to Lone Pine. Turn right (west) at Whitney Portal Road. Proceed 2.75 miles to Movie Flat Road. Turn right heading north for 1.5 miles on this road until it turns sharply right and left. Take the left turn and drive on the good quality road for about 0.6 miles to the Loaf Parking Area which contains a large dark rock overhang. Park in disturbed areas only, not on plants. Although area plants may appear dead, they are actually alive. Short walking trails lead to several climbing locations nearby. Please pack out all trash..
Hiking Distance/Elevation/GPS Coordinates: Several climbing areas exist in the Alabamas. Many are located west of Movie Flat Road and only hundreds of feet from nearby parking. The parking area for the Loaf Climbing Area is 4,783 feet in elevation. Lat.: N 36.6081; Long.: W -118.1338.
Misc: Check out Elevation, a mountaineering shop in Lone Pine with maps, climbing guides, and technical gear. Learn about hidden climbing gems, places to camp, and alternative recreation opportunities from shop staff. Pick up the Alabama Hills Recreation Map which identifies popular climbing locations. Camp only in nearby campgrounds including Tuttle Creek, Portagee Joe, Diaz Lake, etc. The Mt. Whitney Hostel provides inexpensive climber friendly lodging in Lone Pine.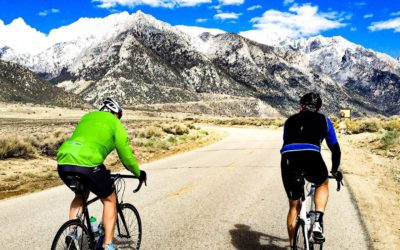 The best things to do in Bishop CA in January translates to ALL season fun. Or as we like to call it, "Juneuary" is your chance to have your cake and eat it too in a mountain getaway. Be it snow-free or an all-weather variety vacation, Bishop's big backyard is THE place to visit in winter.
My favorite highball of all times is in the Buttermilks in Bishop, CA. It's a classic. A perfect set of moves. My hands sweat just thinking about it. I keep telling myself, with the pads we have it's going to be ok, even with the big dyno at the end. What...
I could list a thousand reasons why Bishop rocks. It's stunningly beautiful. The mountains are majestic. The high desert is surreal. The climate is wonderful. There are scores of world-class outdoor activities to be enjoyed. The city is small and attractive. The...
PINE CREEK CRAGS
Pine Creek Crags is a stunning high wall slot canyon located in Pine Creek Canyon northwest of Bishop. This granitic canyon contains several high wall routes for the avid mountaineer.
Land Manager: Inyo National Forest—White Mountain Ranger District.
Directions to Trailhead: Take U.S. Highway 395 north about 10.5 miles from Bishop Chamber of Commerce to the Rovana turnoff (Pine Creek Road). Turn left on Pine Creek Road. Proceed 7.8 miles from this turn. You will pass the Rovana community as you head into Pine Creek Canyon. At the 7.8 mile mark, you will see a narrow high walled canyon known as Pine Creek Crags off to your right. Look for the small parking area on the right side of the road after you pass the canyon. Park here and hike up the narrow 4 wheel drive route which heads uphill and northerly to the mouth of the canyon. The route narrows into a single track hiking trail near the canyon entrance. Many sport routes dot Sheelite Canyon, between the classic crack climbs dating back to the 1970's. Please pack out all trash.
Hiking Distance/Elevation/GPS Coordinates: About 1/3 mile approach to climbing area from parking area. 6,893 feet (2,100 meters) at parking area.
Lat: 37.3807; Long: W -118.6733.
Misc: Eastside Sports and Sage to Summit, two outdoor alpine shops in Bishop, provide technical gear, climbing books, clothing, and information on Eastern Sierra mountaineering venues. Their staff has scaled mountain peaks, walls, and boulders in this region of limitless outdoor possibilities.
WHITNEY PORTAL
". . . The grandest climbing arena on the entire east side" is how Bishop Area Rock Climbs, the Eastern Sierra's definitive guide to climbing, describes Whitney Portal. Its grandeur, views and sheer immensity overwhelms your senses. Granite cliffs pierce the sky projecting over a thousand feet upwards. Splitter finger cracks; long arching corners; and bulging white faces with black knobs make up the area's routes. There are some 55 bolted routes with slab face climbing and 100+ trad routes. Parking is limited because the area is popular with hikers and backpackers.
Land Manager: Inyo National Forest—Mt. Whitney Ranger District.
Directions to Trailhead: From the Bishop Chamber of Commerce, proceed south on Main Street (Highway 395) for 60 miles to Lone Pine. Turn right (west) at Whitney Portal Road. Drive 11.1 miles to Meysan Trailhead Parking. The second parking area is 0.3 miles further; the third parking area is another 0.6 miles. The road ends here below the waterfall.
Hiking Distance/Elevation/GPS Coordinates: Meysan Lakes Trailhead Parking Latitude: N 36.5903; Longitude: W -118.2273. Second parking area lies next to Wood Road (dirt) and across from the Whitney Group Campground. Latitude: N 36.5884; Longitude: W -118.2339. Mt. Whitney Trailhead Parking is at 8,317 feet (2,535 meters) – Latitude: N 36.5868; Latitude: W -118.2397. Please pack out all trash.
Misc: Stop at the Whitney Portal Café, a favorite of alpine climbers. Local owners, Doug and Earlene Thompson, have catered to mountaineers and backpackers alike for decades. Doug, a climbing legend himself, is the guru of local mountaineering lore. Ask him about routes, hidden gems and other opportunities for mountain adventure. Stock up on carbs before your climb with their pizza-sized pancakes— the biggest in the world!
Are you willing to stand up for our climbing areas?
As climbers, we have a personal stake in the health of our outdoor landscapes – without them, we have no place to climb. But as our sport continues to grow in popularity, we are loving our climbing areas to death. Join us in protecting our outdoor landscapes and the climbing experience we love. Making a few minor adjustments to your climbing practice is easy to do and will help protect climbing areas for the long haul.
COMMIT TO THE CLIMBER'S PACT:
Be considerate of other users
Park and camp in designated areas
Pack out all trash, crash pads, and gear
Dispose of human waste properly
Stay on trails whenever possible
Respect wildlife, sensitive plants, soils, and cutural resources
Place gear and pads on durable surfaces
Clean up chalk and tick marks
Minimize group size and noise
Learn the local ethics for the places you climb
Respect regulations and closures
Use, install and replace bolts and fixed anchors responsibly
Be an upstander, not a bystander
#VISITBISHOP GUEST EXPERIENCES