"One cannot think well, love well, sleep well, if one has not dined well." ~Virginia Woolf
Good food prepares us, recharges us, and connects us with our family, friends and a community. Bishop is the "small town with a big backyard" and it also has a pretty impressive kitchen. Actually, we have lots of kitchens and they belong to the many excellent restaurants in and around town. Whether you're a connoisseur or just plain hungry there's a world of good food here with a variety and quality that's a delicious complement to our beautiful backyard.
Residents are, not surprisingly, quite proud of the culinary prowess of our local restaurateurs and patronize the many fine establishments with great gusto. Guests of our lovely little town will find themselves spoiled for choice and frequent visitors can sample something delightful and different each time.
A good many of the restaurants unique to Bishop are owned and operated by local residents who attempt to source as much organic and locally produced ingredients as possible. Dishes are often made from scratch with house-made sauces and freshly baked breads. Local eggs are a feature in some of the smaller locales.
We all have our favorites. Foods we eat more of, places we go to more often. I certainly do, but to make a fanfare of our food I've put together a (not-exhaustive) list of restaurants and a little literary taste of what makes each unique. To be fair to the fare it's compiled in alphabetical order and, to showcase our international flair, I've arranged the classifications in descending order. That puts American, the largest category, last.  To round it off, like any good meal, I've included a soupcon of sweets and treats plus a short course on nightlife.
Lastly there's a list of which eateries have outdoor seating for dining all'aperto AKA al fresco.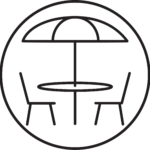 Look for this icon that indicates outdoor dining available.
All'aperto AKA Al fresco
Did you know that in Italy al fresco is not what we think it is? In Italian fresco can mean fresh, but the adjective usually means cold, cool, or chilly. The noun fresco is 'a cold place.' Disturbingly, the phrase al fresco is used figuratively to mean 'in prison.' Italians are alarmed when we say, "We had a fabulous dinner al fresco." Who knew? Apparently – Italians.
We're a small town with a big backyard and we have a fresh outlook on the world.
Here's a list of establishments where you can dine all'aperto.
Click on the restaurant name to jump to its description in the relevant cuisine above.
Passing Through Bishop
In addition to the dozens of unique independent establishments listed above, Bishop also has a great selection of known name franchise restaurants that feature convenient drive-thru service. We're proud to showcase these Bishop Chamber of Commerce members in our World of Good Food guide.
Beyond Bishop
These eateries, which are listed in their respective cuisines above, are located outside of the greater Bishop area in the towns up and down US-395, along CA‑168 and on US-6. We're proud to showcase these Bishop Chamber of Commerce members in our World of Good Food guide.
Bishop Visitor Center
As always we recommend you stop in at the Bishop Visitor Center at 690 N Main Street for maps and info on what to do, where to eat, and where to stay in Bishop and surrounds. We've got a world of good information to share with you.